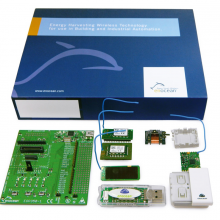 EnOcean
EDK 350 868 MHz ASK Developer Kit
EOP 350 Programmer/demo board
TCM 320 transceiver module

Contact Us
Shanghai, China

+86 21 58380167

Hong Kong, China

+86 21 58380167
$486.49 USD
$3,770.27 HKD
¥3,528.97 CNY
NT$16,345.93 TWD
/ea
1 +

$486.49 USD

$3,770.27 HKD

¥3,528.97 CNY

NT$16,345.93 TWD
Call to order
Product Overview
EDK 350 – the developer's kit for EnOcean modules. Your fastest way into Energy Har-vesting Wireless Sensor Technology. It offers a complete set of energy harvesting and ultra-low-power radio technologies for the development of self-powered applications.
EDK 350 supports line-powered applications based on transceiver modules and self-powered applications based on sensor modules including energy conversion and storage.
EnOcean modules offer a pre-defined feature set for energy management, data acquisition, data processing and wireless data transmission. User specific applications can be implemented based on the application programming interface (DolphinAPI).
Product Highlights
User manual and USB Cable
EOP 350 Programmer/demo board
TCM 320 transceiver module
STM 300 sensor module on adapter
PTM 21x push button transmitter
ECO 200 mechanical energy generator
PTM 330 transmitter module
DolphinStudio / DolphinView via download